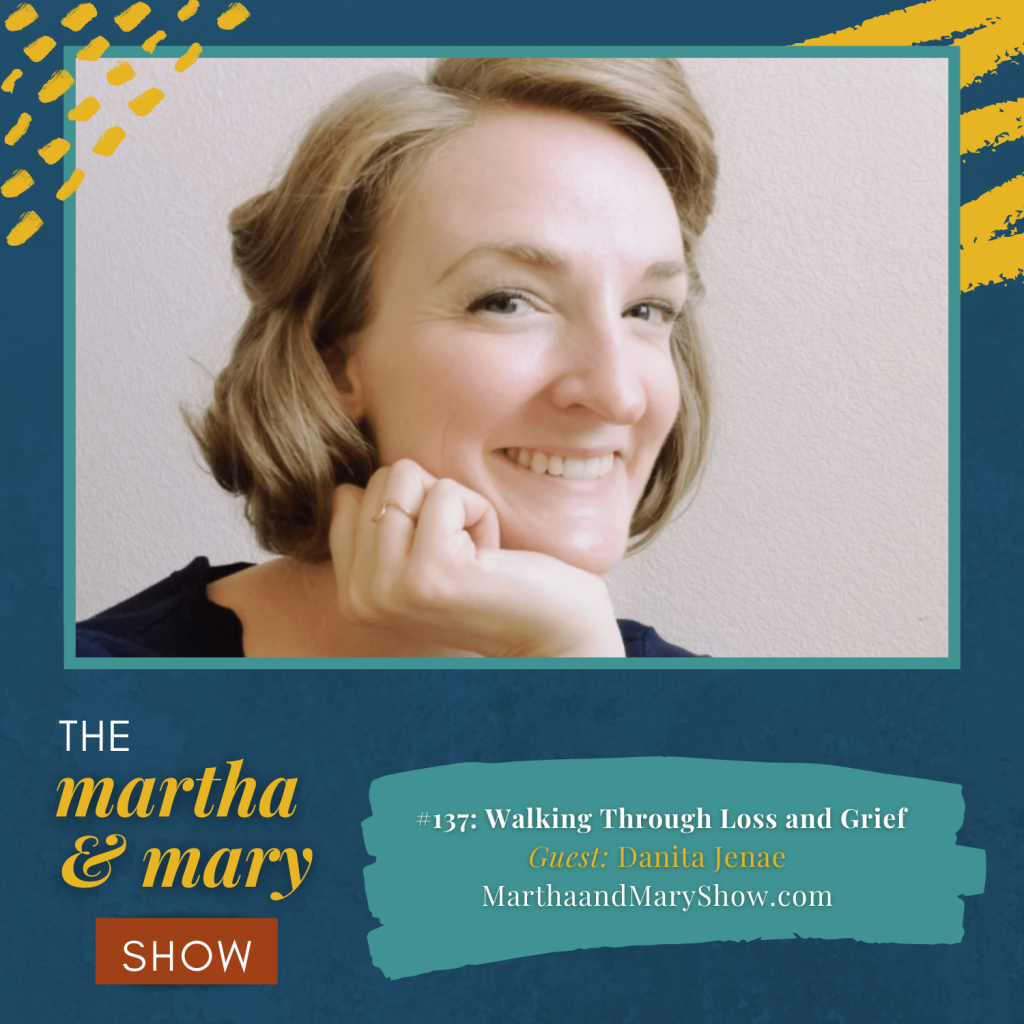 Are you grieving? Are you walking a loved one through loss? Are you uncertain if you can face tomorrow?
This week's podcast is designed to help you feel understood, seen, and comforted in grief.
Disclosure: Affiliate links are used in this post. If you choose to purchase through the links, we may be compensated at no additional cost to you. See full disclosure policy.
Listen to the latest episode below, on our podcast webpage, or access Episode #137 on your favorite podcast app.
Show Notes for Episode 137 with Danita Jenae:
Danita Jenae, author of When Mountains Crumble, shares her journey with grief and offers empathy and insight to those who have experienced loss.
Today's Guest: Danita Jenae is a young mom and recent military widow learning to carry both joy and sorrow in the same breath. As an author, speaker, poet, and artist, she walks alongside the broken-hearted, offering practical and creative ways to lead a Spirit-led life at danitajenae.com and @CompanionInSorrow. To help you find your way in sorrow, Danita invites you to grab your free copy of her Find Your Footing Grief Guide at WhenMountainsCrumble.com.
Theme Music: "Found" by Lisa Troyer and Dawn Yoder Venture3Media/Circle of Friends
Today's Sponsor: Brave Moms, Brave Kids: A Battle Plan for Raising Heroes by Lee Nienhuis
Things We Talk About:
Today's Verses: Psalm 46:1-3
God is our refuge and strength, a very present(well proved) help in trouble. Therefore we will not fear though the earth gives way, though the mountains be moved into the heart of the sea, though its waters roar and foam, though the mountains tremble at its swelling."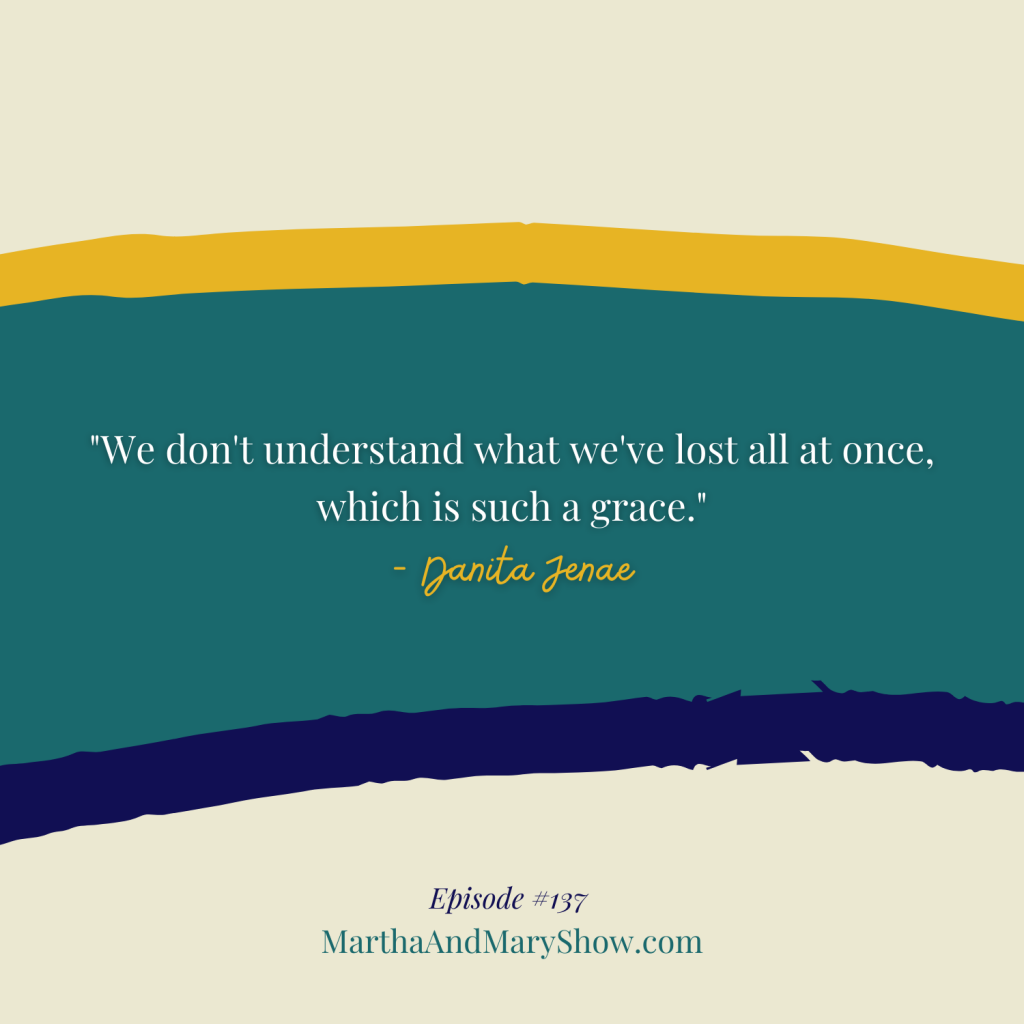 We don't understand what we've lost all at once—which is such a grace. -Danita Jenae #marthamaryshow #whenmountainscrumble #grief #loss
Click To Tweet
Connect with Us:
Subscribe to the show and leave a rating and review.
My body knew before my brain could catch up. -Danita Jenae #whenmountainscrumble #marthamaryshow #grief #loss #widow #healing
Click To Tweet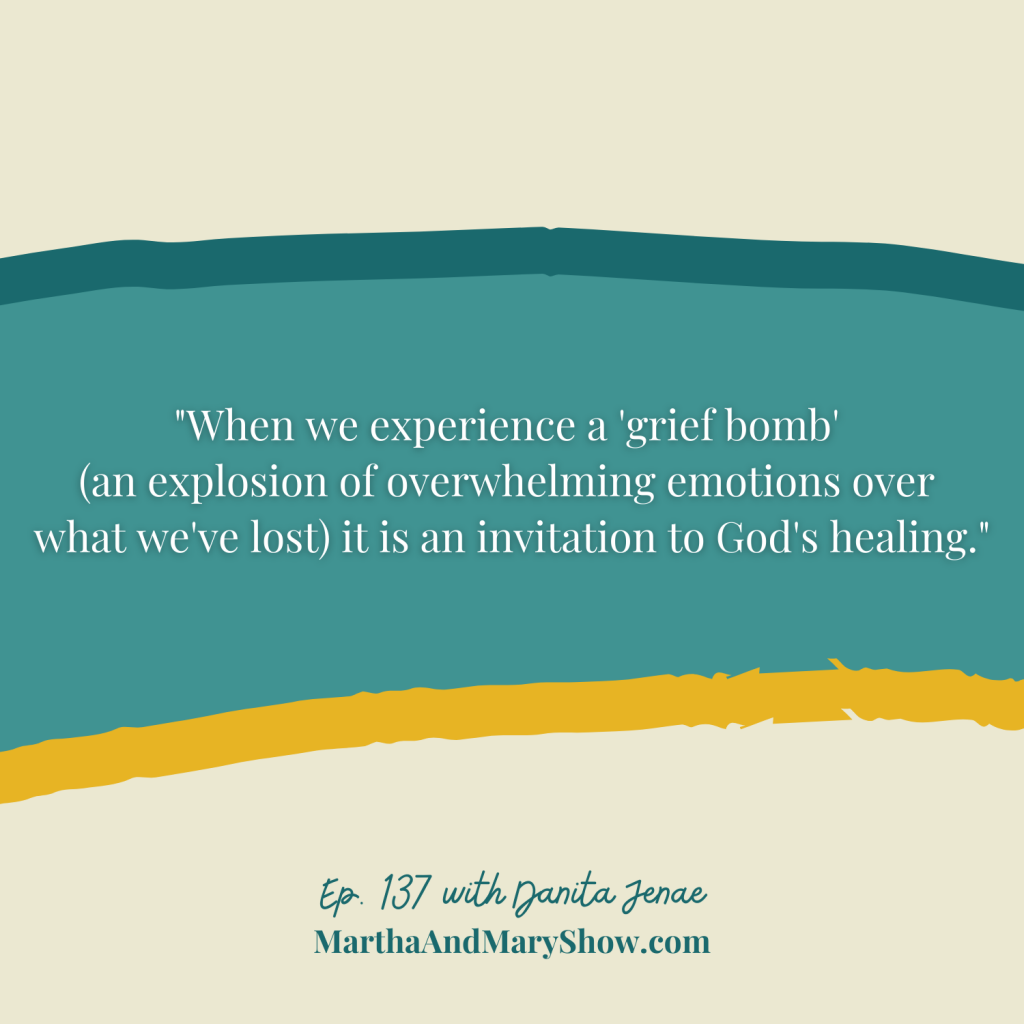 Latest episodes of the podcast:
136: Wisdom from the Flower Garden with Christie Purifoy
135: Deploying Hope and Healing with Jennifer Bleakley and Jodi Stuber
134: Standing on Truth in All Things with Lauren Alexander
133: Let's Go When and Where He Leads Us with Tischa van de Reep
132: Moving from Fear Stops to Faith Steps with Jennifer Hand