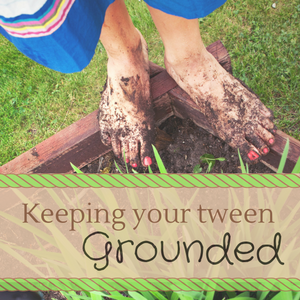 Welcome to Day #23 of the Grounded Series!
Yesterday was the "I Dare You to Say It!" Challenge. We complimented each other (and made eye contact). You can access the video of the dare here. Be sure to let us know if you did the challenge, we'd love to hear about it!
Let's take a few moments to dig into God's Word and find out what He has to say in regards to being grounded in love.
What about Love?
Ephesians 3:18-19 (NASB)
(That you) may be able to comprehend with all the saints what is the breadth and length and height and depth, and to know the love of Christ which surpasses knowledge, that you may be filled up to all the fullness of God.
Did your parents sing Jesus Loves Me when you were little?
It's a familiar song that carries timeless truth.
Yes, Jesus loves me. The Bible tells me so.
I have heard the Bible described as a love letter from God to us. From the very beginning, starting in Genesis, we see how much we are loved. When God made humans, male and female, He said it was "very good" (see Genesis 1:26-31).
We are made in God's image. We are also sinners, in need of a Savior.
Jesus, God's Son, died for our sins, on the cross, so that if we believe in Him, as our Savior, then we can be saved from eternal separation from God. Through Christ's blood, His perfect sacrifice on our behalf, we can be made clean and have a relationship with God. And that is very good, indeed!
Knowing the love of Christ is the most important thing we can ever know. Not just knowing about Jesus, but receiving Him and His unconditional love for us, is the greatest gift we can ever receive.
Do you know how wide, long, high, and deep Jesus' love is?
It is greater than we can imagine!
For God so loved the world that he gave his one and only Son, that whoever believes in him shall not perish but have eternal life. -John 3:16
Do you feel empty inside? Ask God to fill you up with His love.
God's love was proven for you in the death and resurrection of Jesus. Now it's up to you whether or not you will choose to believe God's Word and receive what Jesus has done for you.
Jesus loves you this I know, for the Bible tells me so!
Dear God:
Sometimes I feel so unlovely and unlovable. I sin time and time again. I don't have a lot of hope when I look around and see the problems in this world, and in my own life. Please help me to believe in You and that what You say is true. Help me to love Your Word and to receive the love that You have given me. Thank You for what Jesus did, so that I can be forgiven, and have hope that lasts—even when really hard things happen. Thank You for making me. Thank You for loving me, no matter what. Help me to love others like You do.
In Jesus' Name, Amen.
Your Turn:
Describe a time when you felt really loved.
Do you believe that Jesus loves you? Do you feel like you have to earn His love or are you able to receive it as a gift?
You might also like: