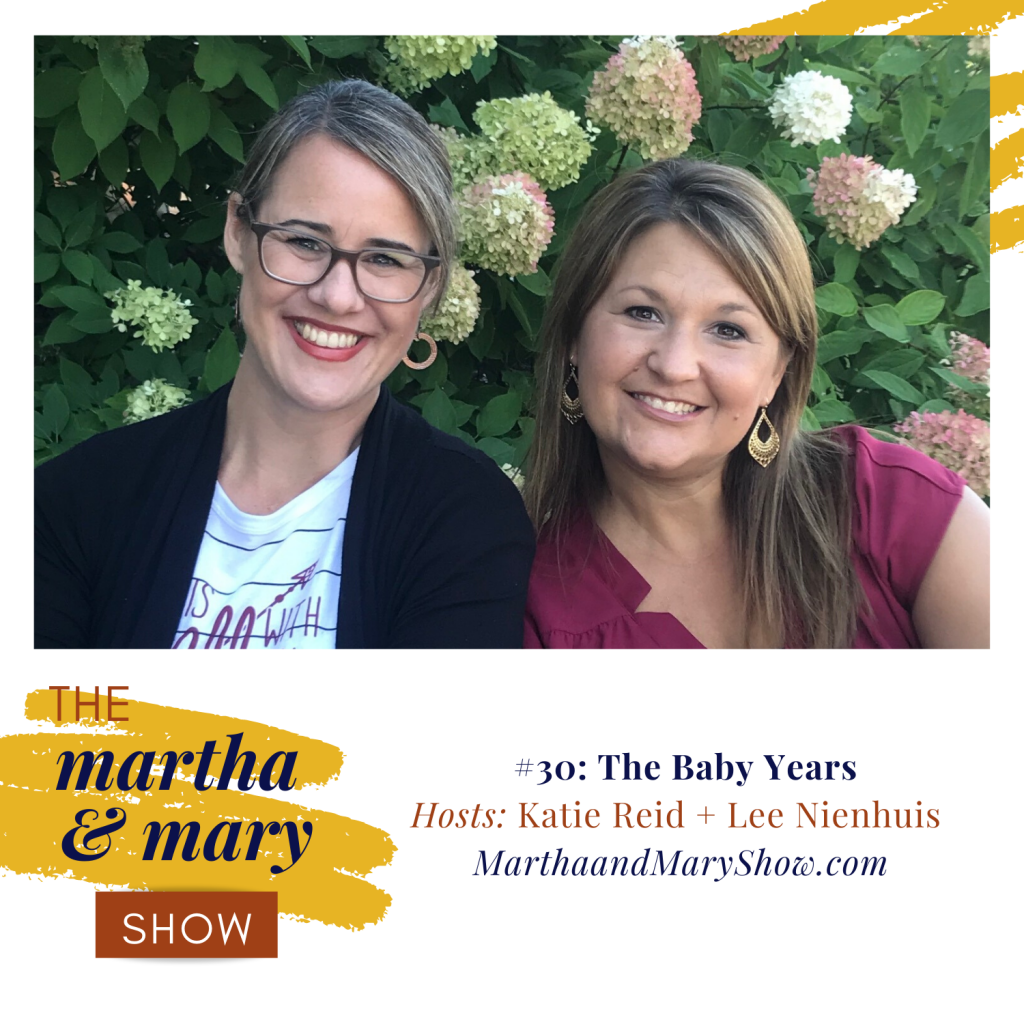 Lee and her husband have four kids and Adam and I have five. Not that long ago, we were sleep deprived mamas of littles, wondering if we'd make it. On this week's episode, of The Martha + Mary Show, we're reminiscing about the baby years—things we miss and things we don't. We're here to offer you a comforting hug and assurance that you will make it!
Listen to the latest episode over here, on our podcast webpage, or access Episode #30 on your favorite podcast app.
Subscribe to the show and leave a rating and review via your podcast listening app: iTunes, Stitcher, Libsyn, or Spotify.
Hey, Mama, what is your favorite part about the baby years? #marthamaryshow #momlife
Click To Tweet
Show Notes for Episode #30: The Baby Years
Parenting little people is hard work! There are snuggles and songs and lots of sleepless nights and second-guessing. Katie and Lee chat about what was tough and what was a lifeline, during the baby years—encouraging you to hang onto hope and savor this fleeting stage with your kiddos.
Disclosure: Affiliate links are used in this post. If you choose to purchase through the links, we may be compensated at no additional cost to you. See full disclosure policy.
Show Sponsor: Big thanks to GEMS Girls' Club for sponsoring this week's episode. Learn more about SHINE Brightly and Sparkle magazines: https://gemsgc.org/magazines/
Theme Music: "Sunny Martha" by Cade Popkin
Things We Talk About:
Baby registries
Our different approaches to parenting
Co-sleeper or hyper-scheduler? What kind of mama were/are you? #marthamaryshow
Click To Tweet
Resources to Encourage Mamas of Littles:
Connect with Us:
Be sure to subscribe, so you don't miss any shows!
If you are interested in partnering with the podcast as a show sponsor, contact Katie for info. We have a limited number of slots available and would be happy to explore the possibility of partnering together to get the word out about your product, event, or service.
Listen to Season 3 of the Podcast:
#24: Getting Organized (Interview with Morgan Tyree)
#27 When You're Waiting (Interview with Barb Roose) 
Learn more about our sponsors and access past episodes, here.