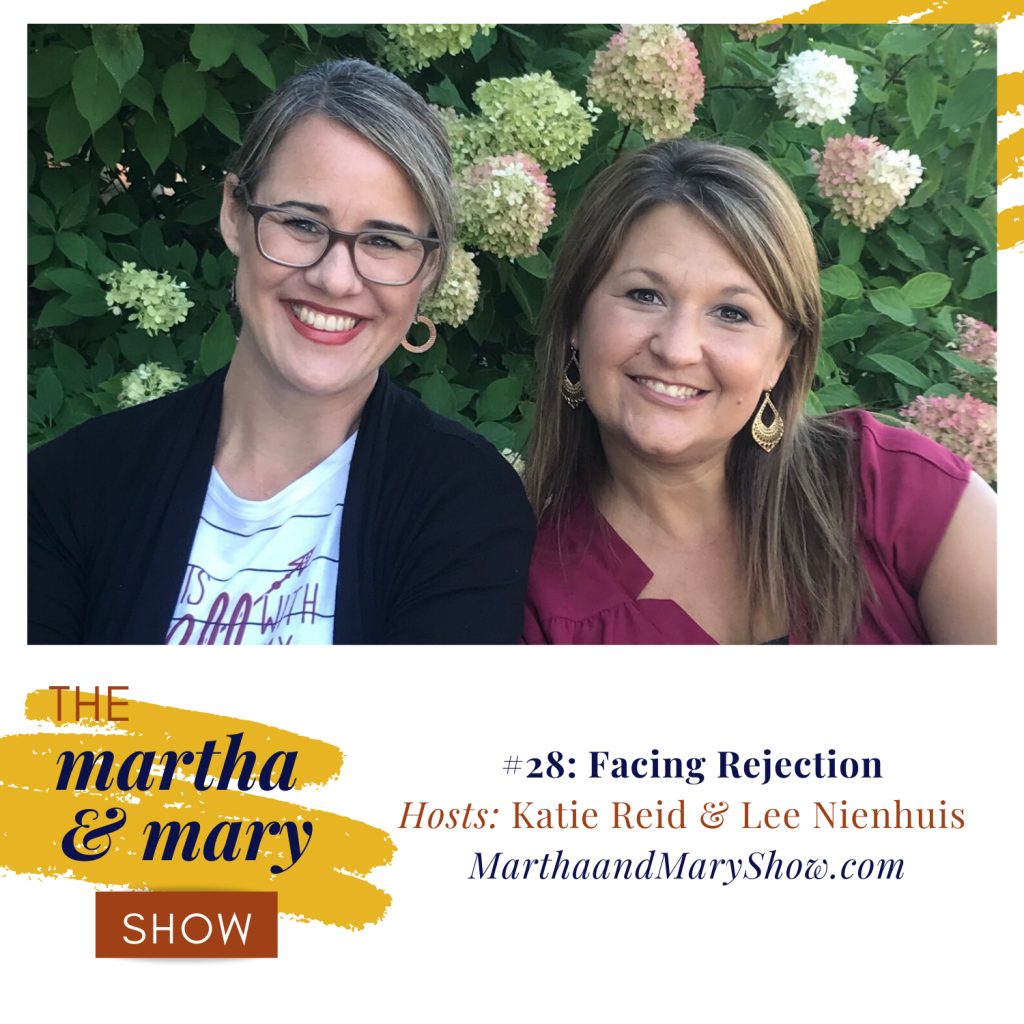 Have you wanted to punch something or someone? That's how we're opening the show this week, as Lee and I have a vulnerable conversation about facing rejection.
If you are interested in partnering with the podcast as a show sponsor, contact Katie for info. We have a limited number of slots available and would be happy to explore the possibility of partnering together to get the word out about your product, event, or service.
Listen to the latest episode over here, on our podcast webpage, or access Episode #28 on your favorite podcast app.
Subscribe to the show and leave a rating and review via your podcast listening app: iTunes, Stitcher, Libsyn, or Spotify.
Show Notes for Episode #28: Facing Rejection
Being rejected can derail you. It can also draw you to Jesus and help you become more compassionate. Katie and Lee talk candidly about their experiences with rejection, offering empathy and practical steps for moving forward.
Disclosure: Affiliate links are used in this post. If you choose to purchase through the links, we may be compensated at no additional cost to you. See full disclosure policy.
Show Sponsor: Big thanks to Brave Moms, Brave Kids: A Battle Plan for Raising Heroes by Lee Nienhuis for sponsoring the show.
Theme Music: "Sunny Martha" by Cade Popkin*
A no to your project is not a no to you. -Karen Neumair #marthamaryshow
Click To Tweet
Things We Talk About:
Are you rehearsing rejection? #marthamaryshow
Click To Tweet
How do you handle rejection?
Do you do everything you can to avoid rejection?
Do you reframe the situation when you're rejected?
Do you obsess and over-analyze when you've been rejected?
Today's Verse: Isaiah 53:3 (ESV)
He was despised and rejected by men, a man of sorrows and acquainted with grief; and as one from whom men hide their faces he was despised, and we esteemed him not."
When you're feeling rejected:
Moderate on social media
Reach out to others
Take stock of what you do have (use the All Done! Calendar)
Invest in your real life friends
Run to the only One who can sustain you—Jesus.
Rejection does not have to take you out of the race. #marthamaryshow #rejection
Click To Tweet
*Cade Popkin created this custom song for our show. If you are interested in his services, access his info, here.
Connect with Us:
Be sure to subscribe, so you don't miss any shows!
Listen to Season 3 of the Podcast:
#24: Getting Organized (Interview with Morgan Tyree)
#27 When You're Waiting (Interview with Barb Roose) 
Learn more about our sponsors and access past episodes, here.