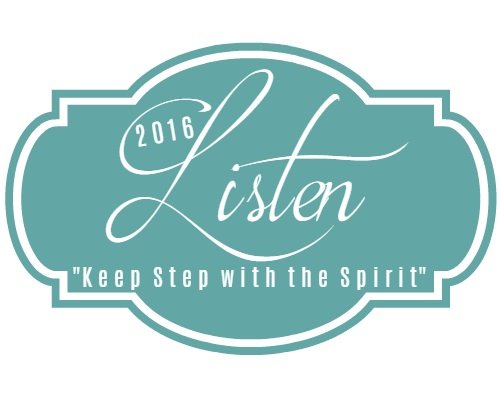 My One Word for the year is "Listen". I'm often a distracted listener, so it's important for me to grow in the area of attentiveness.
I had my friend and online store owner, Krafy Kash, make a necklace to help me remember to "listen" better this year. It's a great reminder to live out my One Word. Head over to Krafty's shop to see all her lovely products. Consider getting a custom piece with a word that is particularly meaningful to you.
All my readers can receive a 10% discount on Krafty Kash's jewelry by entering code "katiemreid" at checkout.
Speaking of listening, let's tune in to my lovely Texas friend, Anne Watson, as she shares today as part of the Listen Close, Listen Well series.
Hearing Crickets When You Pray?
I sort of have this ongoing joke with God. I love Him and want to serve Him but sometimes it's hard for me to understand what He wants from me. So God knows that if He really wants me to do something, He has to basically hit me over the head with a baseball bat. It's not that I am dense, it's that I mostly don't trust myself to interpret the voice of God in my life.
On one particular occasion, I was being considered for a job so outside of my comfort zone that I was begging God to give me a sign. I wanted some kind of lightning strike that said, "Yes, Anne, this is from ME and it's FOR you." While I waited for the job offer to come, I prayed that God would reveal His plans to me.
All I heard were crickets.
It was becoming clearer that I was going to have to make the decision on my own so I changed my prayer and had a conversation with God that went something like this:
"Okay, Lord. You know your plans for me and I believe they are good. Therefore, if I am offered this job, I will choose to believe that it is from you. Further, each time the job gets hard, as I am sure it will, I pray you will remind me through your Spirit that I am choosing to believe."
Shortly thereafter the call came and I was offered the job. I was excited and terrified all at once but I remembered I told God I would believe it was from Him so I approached the role as if that were the case. I can hardly explain the peace I felt every time I recalled my 'deal' with God. Especially when the job got hard and the Spirit would nudge me with the memory of my choice.
I wish I could tell you that I now always hear God clearly or I always follow what He wants for me without hesitation. Making the choice to believe sounds easy enough but I look back I see areas where I may have heard but I didn't listen. I am getting better at discerning His voice but I still have a long way to go.
I think about that job situation a lot, though. I think God wanted me to take the job but he wanted me to take the risk more. He wanted me to trust Him and build my faith. I can't help but think of Peter when Jesus asked him to climb out of the boat and walk on water. (Matt 14: 22-31) Peter wanted desperately to trust and for a moment, he did walk on water. In that moment, his faith grew stronger. Sure, a moment later he sank down into the water but Jesus was ready and pulled him back up immediately.
I think Peter grew in his faith that day just as I grew in my faith when I took that job. I find myself looking for more opportunities now to take those risks because my faith grew and I want it to grow again. I am less fearful and more faithful because I made a choice to believe.
Reason told me not to but faith gave me courage.
If you are wrestling with a decision today and feel as though you are only hearing crickets when you pray, I encourage you to make a choice to believe God no matter the outcome. Let your faith give you the courage you need to step out of the boat and walk just a little closer to our Lord Jesus. You'll never regret it.
Leaning in,
Anne
Anne Watson is a fresh voice in women's ministry. As a former perfectionist and sleep-in-on-Sundays girl, Anne is passionate about helping women love themselves for real. With humor, wit and biblical insight, Anne helps women connect the dots between God and their everyday lives. Read more from Anne at GodDots.com.

Read the rest of the Listen Close, Listen Well Series here or subscribe to the blog so you don't miss any upcoming posts (enter email address at top right to subscribe for free):
Save
Save