Whether you are more like Martha or Mary, the holiday season can be stressful. Part of that stress involves finding the right gift for your loved ones. To help you experience more peace instead of panic, we've curated the Martha + Mary Holiday Gift Guide. This guide makes shopping simple for everyone on your list.
Listen to the latest episode over here, on our podcast webpage, or access Episode #22 on your favorite podcast app.
Be sure to subscribe to the show and leave a rating and review via your podcast listening app: iTunes, Stitcher, Libsyn, or Spotify.
Show Notes for Episode #22 Holiday Gift Guide:
The Martha + Mary Holiday Gift Guide makes shopping simple for everyone on your list. Whether you are buying Christmas gifts for family, friends, or co-workers, discover items that will point the recipient to the true meaning of the season.
Disclosure: Affiliate links are used in this post. If you choose to purchase through the links, We may be compensated at no additional cost to you. See full disclosure policy.
Download the gift guide below and/or just click on the item on the guide (from the link below) and it will take you to another link where you can purchase that item. Let us know if you have questions.
There are some special incentives and discounts on the items we mention on the show, see the rest of the show notes (below) for information.
Theme Music: Dance of The Sugarplum Fairies*
Stocking Stuffers:
Sister Bees Lip Balm: Sister Bees all natural lip balm glides on and leaves lips feeling renewed and refreshed. Their lip balm is made with all natural ingredients, including beeswax! This is a perfect relief from dry, chapped lips. Sister Bees is a Michigan based company, so fun! Katie is a big fan of the Chai flavored lip balm, it smells great and is smooth and gentle. There are many flavors to choose from and other products too, like: soaps, bread balm, and candles.
Get 10% off when you make a purchase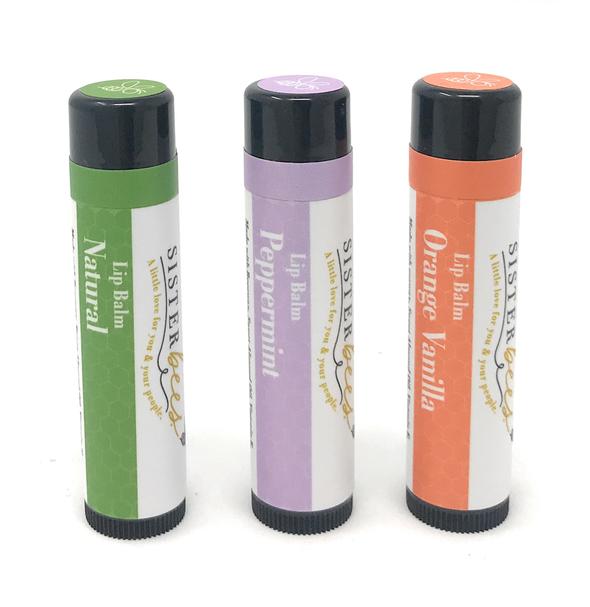 Young Living Essential Oil: Thieves®
Thieves® essential oil blend is a powerful combination of Clove, Lemon, Cinnamon Bark, Eucalyptus Radiata, and Rosemary essential oils that fills any space with a rich, spicy aroma. Thieves blend is your go-to for an invigoratingly clean and spicy scent that smells more like fall baking than harsh cleaning formulas. Lee uses this a lot with her family.
Find a Young Living consultant near you, or contact Kate Battistelli if you don't have one already.
Plexus: "Pink Drink"
Plexus Slim features a premium microbiome activating formula that contains natural ingredients designed to improve your gut health, balance blood sugar and hormones, and promote healthy weight maintenance! Feed your gut beneficial prebiotics, support a healthy glucose metabolism, and lose weight, all with this delicious pink drink. See disclosure here.◊* 
Lee has used the Pink Drink and Katie uses the ProBio 5 capsules.
Ellie Hamilton, Plexus Ambassador, is offering The Martha + Mary Show listeners a discount! Email Ellie at ephamilton16@gmail.com and put HOLIDAY SPECIAL in the subject line to access the discount.
Leather Bracelets
We know it can be hard to live every day bravely, so we created these hand-made bracelets to be a regular reminder! Whether you need to Believe, Pray, be Brave, be Fearless, or know that you are Loved, these bracelets are a wonderful tool! They come in black, lighter brown, or darker brown. Lee has sold thousands of these. Check them out on her site.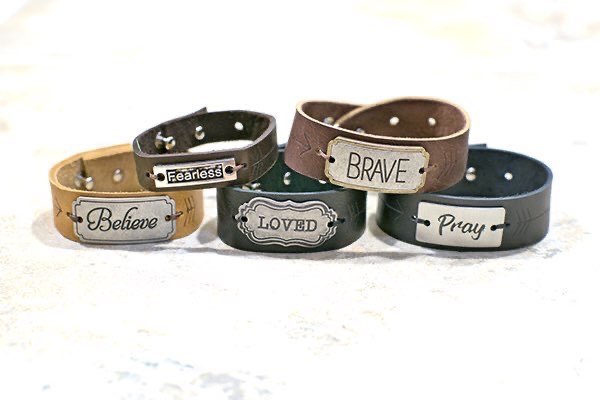 Affordable, fun gifts for everyone on your list! #holidaygiftguide #marthamaryshow #giftideas
Click To Tweet
For the Writer, Student, or Teacher:
Mobile Desk
Max Smart's Multi-functional Lap Laptop Desk is the perfect gift for work from home friends or writers. This lap desk has a mouse board that attaches and makes setting up shop possible from anywhere. This large lap platform supports various laptops, notebook and tablets up to 17″ display, transforming your laptop PC into a true mobile workstation as laptop bed tray, tablet holder, laptop stand, work stand, reading desk or for whatever situation you may need it. Lee used this a lot when she was writing her new book.
Five-Minute Writing Prompt Journal by Kate Motaung
Use the 52 writing prompts in this lovely journal as an invitation to leave your inhibition at the door and let the inspiration flow, free and unreserved. Stop taking yourself so seriously and just have fun. Cultivate confidence, consistency, and creativity in just five minutes at a time.
This is a great gift for anyone who wants to write or journal on a regular basis.
Music Lovers:
Spotify Family Subscription
The Spotify Family Package is an ad-free music service for $14.99/month and it is a delight for the entire family. Up to 6 accounts can be added for family members under one roof. Parents can also set parental restrictions. Get your dance party ready with this fun gift!
Praise Is Rising by Niki Homan
We featured Niki's music on several episodes of the podcast. Niki is a mother of fourteen and a soulful worship leader. The Praise Is Rising album will move you to a place of praise and worship as you go about your day. The gifted songwriting, beautiful pairing with piano and stirring melodies make this album a favorite for prayer and meditation and maybe even a spontaneous dance party.
Oh what fun it is to shop from the Martha + Mary Holiday Gift Guide! #marthamaryshow #holidaygiftguide
Click To Tweet

For Hard-to-Shop-for Guys and Gals:
Stanley Mug: This durable travel mug keeps your beverages hot all day. Double wall stainless steel construction and durable rust proof finish stands up to any work or play environment. The stainless steel lid can also be used as a bowl and its wide mouth opening makes it easy to clean. Lee's husband and the youth leader at their church have these.
For Couples:
Marriage Triggers by Amber & Guy Lia
Practical advice for married couples to end the cycle of reactionary arguments and renew their commitment to responding gently and biblically.
Marriage Triggers is a must-have resource for any couple who desires a thriving marriage. With a well-balanced approach, Guy and Amber give your marriage a fighting chance by addressing triggers that threaten to divide you. Confront angry patterns with grace-infused conversations as you move toward a healthier, hope-filled relationship.
Katie and Adam endorsed this book and highly recommend it for any engaged or married couples and also for pastors and counselors who work with couples.
For Those Who are Grieving, Hurting, or Facing Change:
Out of Words by Carmen Horne
Healing feels impossible when our hearts are so shattered that words fail us. When the pain is so great we cannot pray, we long for gentle guidance and profound wisdom to guide our journey back to trust. In Out of Words, Carmen Horne brings the experience and hope we need to regain strength — and find our words. Sharing guidance and clarity from her own hard-earned healing and rooted in Scripture, Carmen offers 31 days of insight, specifically crafted prayers, and journal space.
Pick up a copy of Out of Words: 31 Prayers of Hope for Your Hurting Heart between now and December 15th, email your proof of purchase to Carmen, and she will personalize a note for the recipient(s).
A Redesigned Life by Tracy Steel
Drawing from time-honored design principles such as movement, contrast, and pattern, former interior designer and Bible teacher, Tracy Steel, offers frustrated and discontented women the assurance that God is their ever-present, caring Designer. With a mix of wit and wisdom, Tracy proves through biblical examples and personal testimony that God remains true to his plans and purposes, accomplishing them in and through us in every season of life, even when life doesn't go as planned.
Pick up a copy of A Redesigned Life: Uncovering God's Purpose When Life Doesn't Go As Planned between now and December 15th, email your proof of purchase to Tracy, and she will personalize a note for the recipient(s).
For Kids, Parents/Grandparents, and Teachers:
The Seed Who Was Afraid to Be Planted by Anthony DeStefeno
This children's rhyming book tells the story of a seed who lives in fear of being removed from the drawer where he lives happily with other seeds. One fateful day his worst fears come true and he is buried in the ground outside. To his amazement he soon realizes that he is destined to grow into a magnificent tree overlooking a beautiful sunlit shore. This inspiring story is one that any child can relate to, since it deals with being afraid of new experiences and change. Lee has read this book often and is moved every time.
Joey Book by Jennifer Bleakley
Joey: How a Blind Rescue Horse Helped Others Learn to See is a true story of friendship, that reads like fiction. Joey will touch your heart and reveal the power of finding light in the darkness. This makes a great read-aloud for families or in classrooms. Adults, tweens, and teens, and animal-enthusiasts will enjoy this as well.
For Parents, Mentors, Youth Workers, Grandparents:
Praying for Girls by Teri Lynne Underwood
Covering five vital areas of a girl's life–her identity, heart, mind, relationships, and purpose–this easy-to-use book is ideal for anyone who feels intimidated or uncertain about what to pray for the girl they love. With simple ideas to nurture your daughter's faith, this encouraging book will equip you to pray with more confidence and power.
Pick up a copy of Praying for Girls: Asking God for What They Need Most between now and December 15th, email your proof of purchase to Teri Lynne, and she will personalize a note for the recipient(s).
Brave Moms, Brave Kids by Lee Nienhuis
This generation needs heroes of the faith and your child can be one of them, but that will require you to be strong and BRAVE. Call out the bold Christ followers within your children and help them face the unknown future with divine confidence.
Pick up a copy of Brave Moms, Brave Kids: A Battle Plan for Raising Heroes between now and December 15th, email your proof of purchase to Lee, and she will personalize a note for the recipient(s).
For Friends, Doers, College Students, and Your Bible Study Group:
Made Like Martha by Katie M. Reid
Exchange try-hard striving for hope-filled freedom without abandoning your doer's heart in the process. With "It Is Finished" activities at the end of each chapter and a five-week Bible study included, Made Like Martha: Good News for the Woman Who Gets Things Done helps you find rest from striving even as you celebrate your God-given design to "do."
Pick up a copy of Made Like Martha between now and December 15th, email your proof of purchase to Katie, and she will personalize a note for the recipient(s).
We also mentioned these items during the show:
Well, there you have it! Our first Martha + Mary Holiday Gift Guide. If you haven't already, be sure to download the pdf of the gift guide for easy reverence.
Martha and Mary, from the Bible. can teach us a lot about a relationship with Jesus. We're talking about that over on Women of the Bible series.
*Dance of the Sugar Plum Fairies Kevin MacLeod (incompetech.com)
Licensed under Creative Commons: By Attribution 3.0 License
http://creativecommons.org/licenses/by/3.0/
Checkout the Martha + Mary Holiday Gift Guide! Shopping made simple, for everyone on your list. #giftguide
Click To Tweet
Connect with Us:
Be sure to subscribe, so you don't miss any shows!
Listen to Season 2 of The Martha + Mary Show:
Episode 13: The Heart of Martha + Mary (Interview with Joanna Weaver) 
Episode 14: Enneagram Explosion
Episode 16: Mother + Daughter Relationships (Interview with Blythe Daniel + Dr. Helen McIntosh)
Episode 18: Intentional Parenting (Interview with Susan Seay)
Episode 19: When You Want to Quit
Episode 20: Our Adoption Journeys 
Episode 21: When You're Grieving (Interview with Robyn Dykstra)