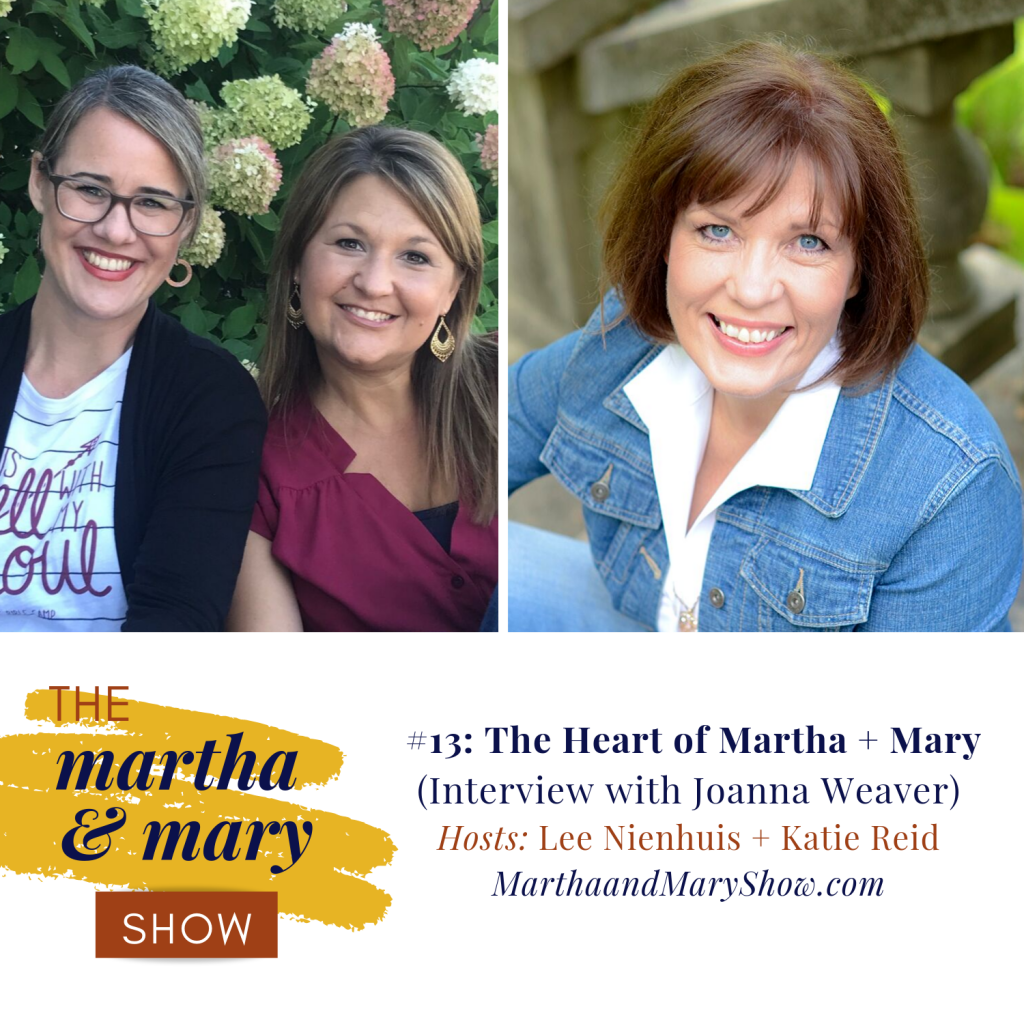 Welcome to Season #2 of The Martha + Mary Show podcast! We thought it was fitting to begin this season with new theme music and a refresher on all things Martha + Mary. We are delighted to be sitting down with Joanna Weaver as we chat about the heart of our two favorite sisters from Bethany.
Listen to the latest episode over here, on our podcast webpage, or access Episode #13 on your favorite podcast app.
Be sure to subscribe to the show and leave a rating and review via your podcast listening app: iTunes, Stitcher, Libsyn, or Spotify.
Disclosure: Affiliate links are used in this post. If you choose to purchase through the links, I may be compensated at no additional cost to you. See full disclosure policy.
Jesus loved Martha and Mary. What good news! #marthamaryshow
Click To Tweet
Show Notes for Episode #13: The Heart of Martha + Mary (Interview with Joanna Weaver)
We sat down with Joanna Weaver for a heart-to-heart chat about Martha + Mary. We discuss the strengths and weaknesses of these women that Jesus loved, and what we can learn from these sisters and their relationships with Him. We also talk about our own grace awakening moments as we kickoff Season 2.
Throughout this episode we refer to the following passage:
Now as they went on their way, Jesus entered a village. And a woman named Martha welcomed him into her house. And she had a sister called Mary, who sat at the Lord's feet and listened to his teaching. But Martha was distracted with much serving. And she went up to him and said, "Lord, do you not care that my sister has left me to serve alone? Tell her then to help me."  But the Lord answered her, "Martha, Martha, you are anxious and troubled about many things, but one thing is necessary. Mary has chosen the good portion, which will not be taken away from her."
Theme music: "The Feast" from Katie Reid's "Echoes of My Heart" Album. https://www.katiemreid.com/singer/

Things We Talk About:

Featured Resource: The Living Room Podcast with Joanna Weaver
Today's Sponsor:  LOVED. Curriculum from GEMS Girls' Clubs
"When a girl knows the Truth of who she is according to God's Word, everything changes. Through LOVED. Period. girls will learn the capital 'T' Truth of who she is—accepted, beautiful, chosen, and so very LOVED." Learn more and order this fantastic curriculum, at GEMS.
Connect with Us:
The Martha + Mary Show Group on Facebook: Made Like Martha Sisterhood
The Martha + Mary Show on Instagram: @madelikemartha
Our IG Handles: @leenienhuis @katie_m_reid
Our Hashtag: #marthamaryshow 
Episode Producer: Jeanna Lesausky
Hand the quill of your will to God. @JoannaWeaverBks #marthamaryshow
Click To Tweet
More Episodes:
Episode 1: Together On Purpose
Episode 2: Our Worth + God's Worthiness
Episode 3: Our Party Planning Styles
Episode 4: Managing Our Various Roles
Episode 5: Facing Fears + Overcoming Obstacles
Episode 6: Time to Get It Done + Time to Have Fun
Episode 7: The Power of Prayer
Episode 10: Back-to-School Tips
Episode 11: Strategic Friendships