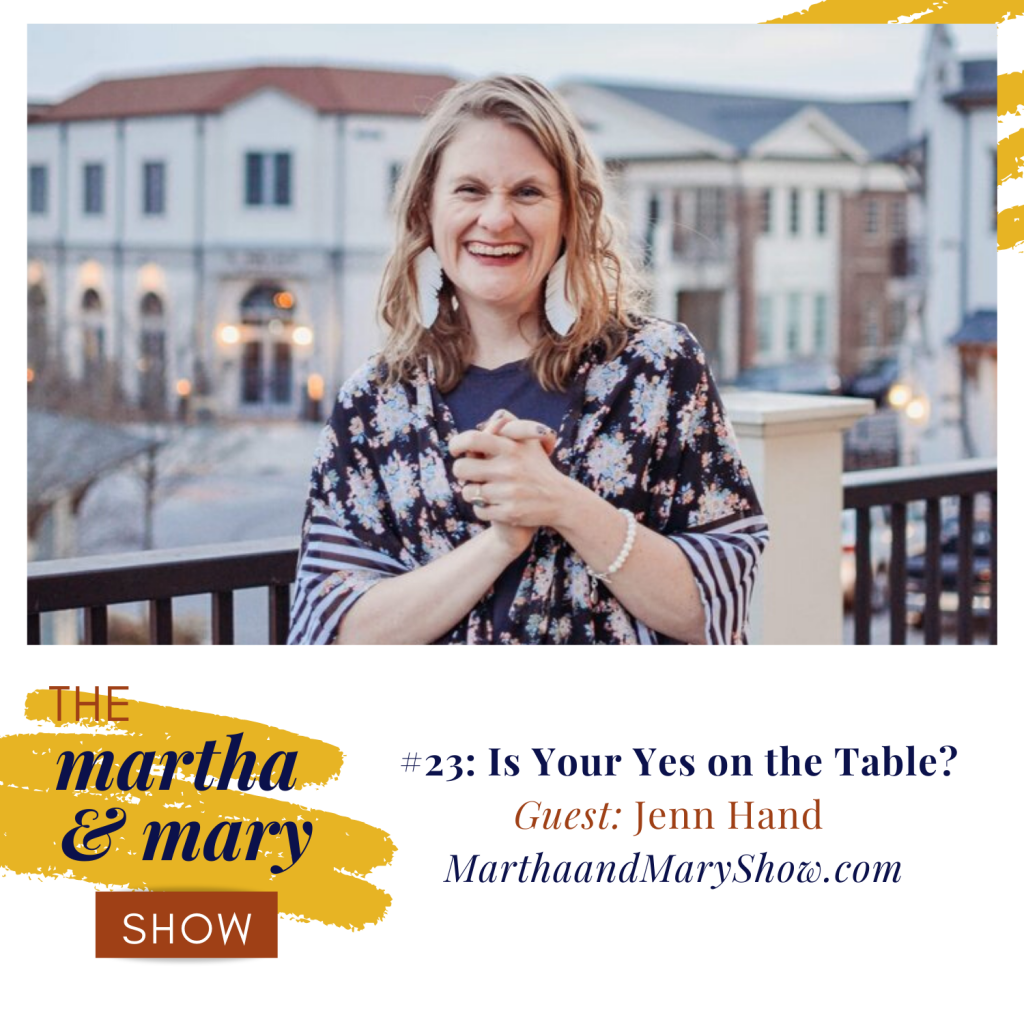 God can speak to us through the most interesting circumstances. Today's guest shares several crazy experiences that definitely didn't go as planned but were used to grow her and draw her closer to God.
During this season, our prayer is that we would each put our "yes" on the table, as Jesus did, and get ready for the adventure of a lifetime.
Friends, you are in for a treat! We had such a great time interviewing our funny and insightful friend, Jenn Hand of Coming Alive Ministries. If you have children, or youth that you mentor, this would also be a good episode for them to listen to, as they hear a powerful example of someone who is following God, wherever He leads.
Listen to the latest episode below, on our podcast webpage, or access Episode #23 on your favorite podcast app.
Be sure to subscribe to the show and leave a rating and review via your podcast listening app: iTunes, Stitcher, Libsyn, or Spotify.
Show Notes for Episode #23: Is Your Yes on the Table?
Is your yes on the table? Are you willing to follow God, wherever He leads? Jenn Hand tells hilarious and powerful stories about saying yes to the adventure of a lifetime.
Theme Music: Dance of The Sugarplum Fairies*
Show Sponsor: Big thanks to speaker and author, Michelle Nietert, host of the Counselor Thoughts podcast.
Today's Guest:  Jenn Hand, Executive Director of Coming Alive Ministries, loves to take you on her crazy adventures — inviting you to laugh with her and experience the love of Jesus as you do. Connect with Jenn on her website and on social media.
Are you stuck in the box of what's comfortable? @comingalivejenn #marthamaryshow @leenienhuis
Click To Tweet
Things We Talk About:
Today's Verse: Hebrews 13:7
Remember your leaders, those who spoke to you the word of God. Consider the outcome of their way of life, and imitate their faith."
*Dance of the Sugar Plum Fairies Kevin MacLeod (incompetech.com)
Licensed under Creative Commons: By Attribution 3.0 License
http://creativecommons.org/licenses/by/3.0/
Is your yes on the table? @comingalivejenn #marthamaryshow @leeniehuis
Click To Tweet
Connect with Us:
Be sure to subscribe, so you don't miss any shows!
Hi, Friends!
This episode, #23, is the last one of Season 2, but we will be back on Jan.8th with Season 3. In the meantime, catch up on any of the podcast episodes you missed or go back and listen to your favorites. We'd love it if you shared some of your favorites with your friends. We hope you have a Happy Thanksgiving and a Very Martha + Mary Christmas! 😉
We hope you are enjoying the Martha + Mary Holiday Gift Guide! May it serve you well this weekend as you keep your shopping simple and meaningful, this season.
With Joy,
Katie + Lee
God, don't let my fear stops prevent me, instead, may they propel me into faith steps. @comingalivejenn #marthamaryshow
Click To Tweet
Listen to Season 2 of The Martha + Mary Show:
Episode 13: The Heart of Martha + Mary (Interview with Joanna Weaver) 
Episode 14: Enneagram Explosion
Episode 16: Mother + Daughter Relationships (Interview with Blythe Daniel + Dr. Helen McIntosh)
Episode 18: Intentional Parenting (Interview with Susan Seay)
Episode 19: When You Want to Quit
Episode 20: Our Adoption Journeys 
Episode 21: When You're Grieving (Interview with Robyn Dykstra)