Often Martha (from Luke 10:38-42) is known as the worrier and Mary (her sister) is known as the worshipper. On this week's podcast episode, Katie and Lee share their hearts on the topic of worry and worship, through: confessions, encouragement, and practical steps to move forward in freedom. Be uplifted through this candid conversation among friends.
Listen to the latest episode over here, on our podcast webpage, or access Episode #15 on your favorite podcast app.
Be sure to subscribe to the show and leave a rating and review via your podcast listening app: iTunes, Stitcher, Libsyn, or Spotify.
Disclosure: Affiliate links are used in this post. If you choose to purchase through the links, I may be compensated at no additional cost to you. See full disclosure policy.
Worry envisions a scenario that God is not going to show up, provide, or be in control...but that's not going to happen, that is not the truth. @leenienhuis #marthamaryshow
Click To Tweet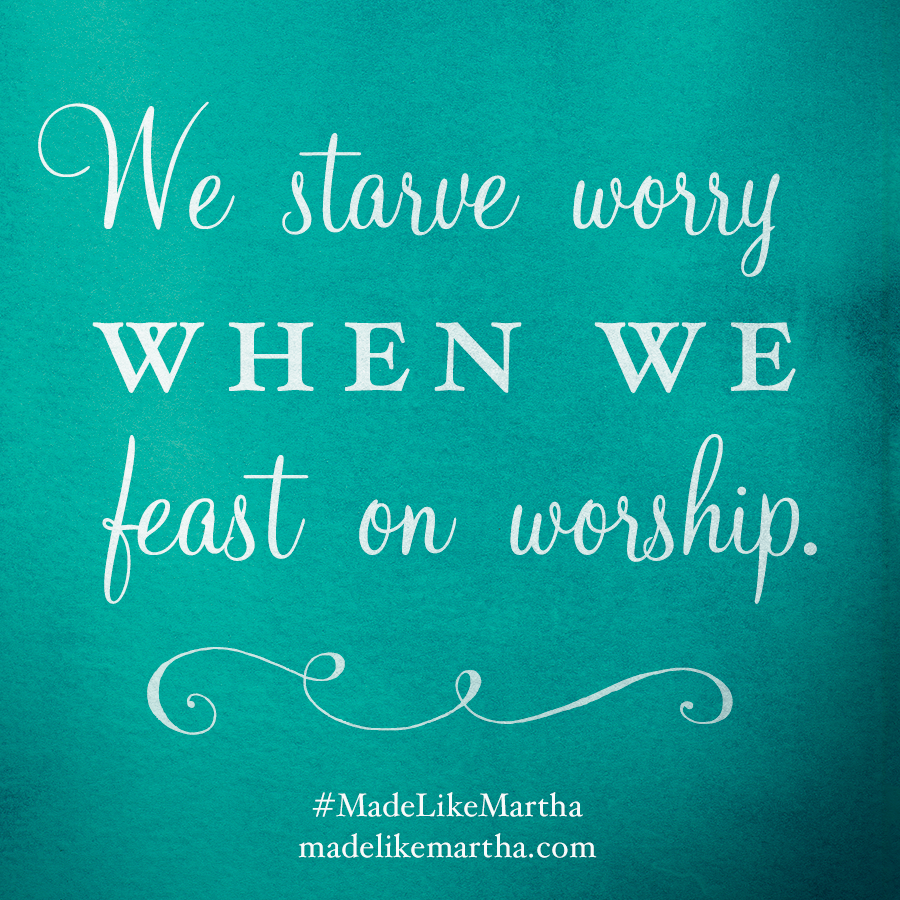 Show Notes for Episode #15: Worry + Worship
Discover the importance of starving worry and feasting on worship, and learn how to turn from the path of panic and move toward the lush path of peace.
Theme music: "The Feast" from Katie Reid's "Echoes of My Heart" album. https://www.katiemreid.com/singer/
Today's Sponsor: Big thanks to Baker Publishing Group and authors, Amy Carroll and Cheri Gregory, for sponsoring this episode. Pick up a copy of their fantastic book: Exhale: Lose Who You're Not, Love Who You Are, Live Your One Life Well. 
Things We Talk About:
The antidote for worry is belief. #marthamaryshow
Click To Tweet
When you find yourself worried, ask yourself these questions:
What am I worried about?
What am I really worried about? (Pull back the outer layer to see what's underneath the worry)
What is God's part in this scenario? What is my part?
Today's Verse: Proverbs 3:5-6
Trust in the Lord with all your heart,
    and do not lean on your own understanding.
In all your ways acknowledge him,
    and he will make straight your paths.
Featured Resource: "Broken Alabaster" song by Niki Homan (from her Uncaged album)
Connect with Us:
Stay-in-the-loop and subscribe to the show!
Are you going to follow the worry-path or the worship-path? #marthamaryshow
Click To Tweet
We have a limited number of sponsorship slots available for the podcast. Contact Katie for more info.
More Episodes:
Episode 1: Together On Purpose
Episode 2: Our Worth + God's Worthiness
Episode 3: Our Party Planning Styles
Episode 4: Managing Our Various Roles
Episode 5: Facing Fears + Overcoming Obstacles
Episode 6: Time to Get It Done + Time to Have Fun
Episode 7: The Power of Prayer
Episode 10: Back-to-School Tips
Episode 11: Strategic Friendships (Interview with Abby Banfield)
Episode 13: The Heart of Martha + Mary (Interview with Joanna Weaver) 
Episode 14: Enneagram Explosion