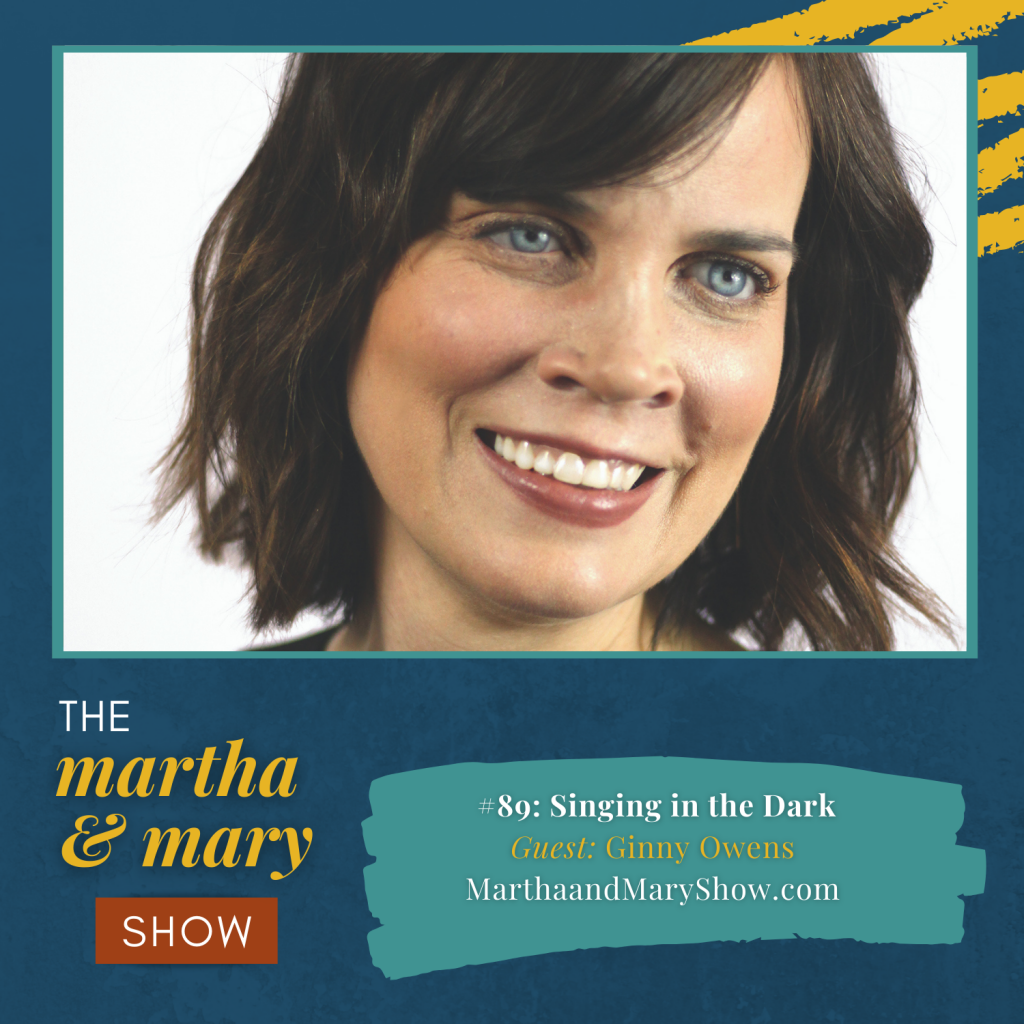 It's not everyday you get to interview someone you have admired from afar for decades! Ginny Owens' music was instrumental in my faith, especially in college. So excited to interview Ginny for you on this week's episode of The Martha + Mary Show podcast.
Disclosure: Affiliate links are used in this post. If you choose to purchase through the links, we may be compensated at no additional cost to you. See full disclosure policy.
Listen to the latest episode below, on our podcast webpage, or access Episode #89 on your favorite podcast app.
Show Notes for Episode 89: Interview with Ginny Owens
Recording artist Ginny Owens talks about singing in the dark and drawing near to God.
Theme Music: "Busy Bee" by Cade Popkin
Today's Guest: Ginny Owens has had an award-winning career that encompasses two decades as a singer/songwriter, recording artist, author and speaker. During that time, Owens has released 10 albums, five EPs and two Christmas projects garnering critical success, chart-topping radio singles, and numerous film and television placements. She continues to inspire others with the truth of the gospel through personal stories, songs and Bible teaching. Her most recent set of EP's, entitled Expressions I and II (November, 2020; February, 2021) have amassed millions of streams across multiple platforms. Ginny currently resides in New York City and is in her final year of a Master of Biblical Studies at seminary. She is the author of the new book, Singing in the Dark.
Today's Sponsors: Stories and Songs of Faith: My Journey with God by Alexis A. Goring.
Countercultural Parenting: Building Character in a World of Compromise by Lee Nienhuis
Things We Talk About:
Lament is sorrow with hope at the center. @GinnyOwens #singinginthedark #marthamaryshow
Click To Tweet
Connect with Us:
Subscribe to the show and leave a rating and review!
When we withhold our pain from God then we are also building a wall between God and us. @ginnyowens #marthamaryshow
Click To Tweet
Catch Up on Season 6 of the Podcast:
Episode #88: Social Media and Your Kids with Jami Amerine
Episode #87: When You Need Comfort with Carol Kent
Episode #86: Be Doers of the Word with Courtnaye Richard
Episode #85: Improving Your Focus with Dr. Quantrilla Ard
Episode #83: Signs of Miracles
Episode #81: Kindness is Contagious (Interview with Tennia Benson)