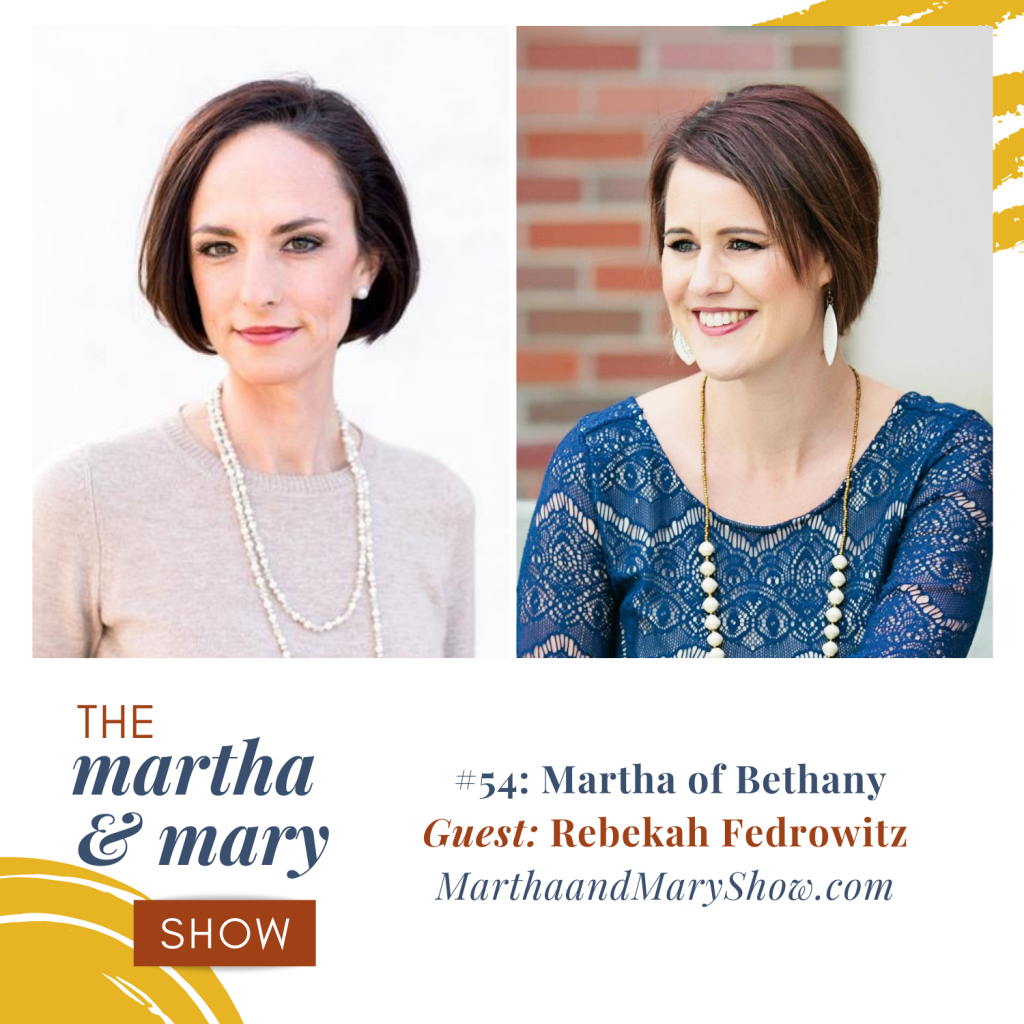 We talk a lot about Martha from Bethany, in the Bible, around here. What was it like for Martha to experience the death and resurrection of her brother Lazarus and how did it change her?
We're taking a look at the answers to these questions in a fictionalized version of the account between Martha and Jesus, in John 11. We're also talking about steps we can take in our spiritual and physical health.
Listen to the latest episode over here, on our podcast webpage, or access Episode #54 on your favorite podcast app.
Show Notes for Episode #54: Martha of Bethany
Listen to a fictionalized account of Martha of Bethany and how she wasn't the same after her exchange with Jesus in John 11. Plus, Rebekah Fedrowtiz shares a refreshing tip for a healthier summer.
Disclosure: Affiliate links are used in this post. If you choose to purchase through the links, we may be compensated at no additional cost to you. See full disclosure policy.
Theme Music: "Sunny Martha" by Cade Popkin
Today's Guest: Rebekah Fedrowitz is a board certified holistic nutritionist and an integrative wellness educator.  She's passionate about helping women identify, combat and recover from stress-driven health challenges. She believes in approaching health from an integrative perspective that considers not only physical health, but also mental and spiritual health as well. Connect with Rebekah at rebekahfedrowitz.com or on Instagram.
Show Sponsors:
Jami Amerine's new book, Well Girl: An Inside-Out Journey to Wellness is now available for purchase.
Are you weighed down by an unhealthy relationship with food? Has a fixation on your appearance turned ugly? Do your obsess about, or avoid, exercise? What if I told you, you can be done with all that, and be well from the inside out? In Well, Girl, by Jami Amerine you will find lighthearted freedom from the scales of guilt and shame as you step into all God has for you, without counting calories or avoiding carbs. It's time to be well, girl. You'll never be the same! 
Pick up a copy of Well, Girl, today at your favorite online retailer.
Did you get your copy of the brand new Ministry to Business Guide?!
This beautifully designed, super easy to follow playbook will help you finally EARN AN INCOME from your passion. Join over a thousand writers, speakers, podcasters, and coaches as they get their pressing questions answered and unlock best practices from industry experts. What are you waiting for?!
Things We Talk About:
Today's Verse: John 11:25-26
Jesus said to her, "I am the resurrection and the life. The one who believes in me, even if he dies, will live. Everyone who lives and believes in me will never die. Do you believe this?"
Connect with Us:
Be sure to subscribe, so you don't miss any shows!
Listen to Season 4 of the Podcast:
#53: Perfection is Not Up to You (Summer Series: Tracy Steel)
#52: Are You a Tightly Wound Woman? (Summer Series: Kela Nellums)
#51: My Sibling with Special Needs (Summer Series: Cindy Bultema)
#50: Blaze of Glory (Summer Series: Angie Gibbons)
#49: Freedom Forever (Summer Series: Jami Amerine)
#48: Freeing the Enneagram 1 (Summer Series: Kate Motaung)
#47: Secrets About Your Type A Friend (Summer Series: Quanny Ard)
#46: Countercultural Parenting (Interview with Lee Nienhuis)
#45: Open Hands, Willing Heart (Interview with Vivian Mabuni)