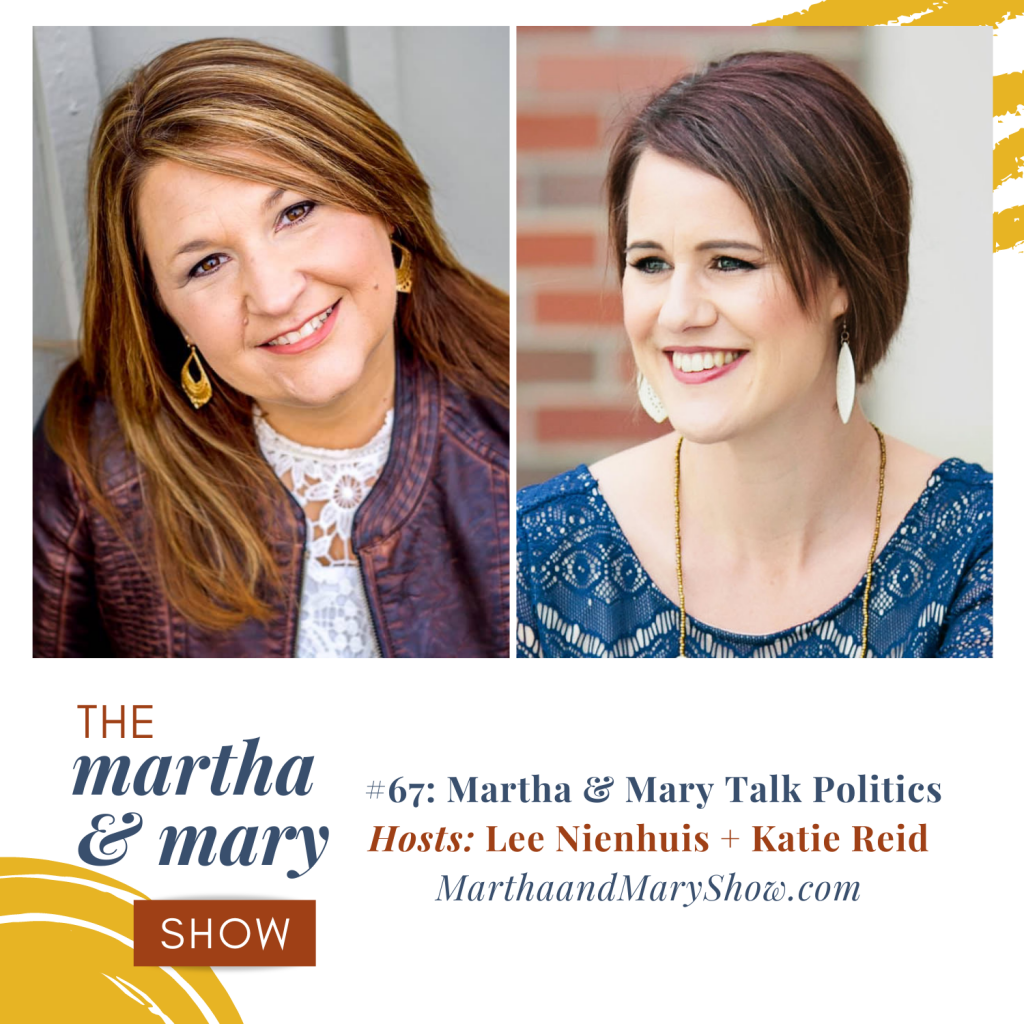 Katie and Lee talk politics on the podcast. We can't believe we went there either, but this is an important conversation to have, especially right now.
Disclosure: Affiliate links are used in this post. If you choose to purchase through the links, we may be compensated at no additional cost to you. See full disclosure policy.
Listen to the latest episode below, on our podcast webpage, or access Episode #67 on your favorite podcast app.
Show Notes for Episode #67: Martha + Mary Talk Politics
Differing political opinions don't have to end friendships, as evidenced by this conversation with Katie and Lee.
Theme Music: "Better Together" by Cade Popkin
Show Sponsor: Countercultural Parenting: Building Character in a World of Compromise by Lee Nienhuis is a timely resource for parents to invest well in their children as they help them develop godly character.
Things We Talk About:
And do this, understanding the present time: The hour has already come for you to wake up from your slumber, because our salvation is nearer now than when we first believed. The night is nearly over; the day is almost here. So let us put aside the deeds of darkness and put on the armor of light. Let us behave decently, as in the daytime, not in carousing and drunkenness, not in sexual immorality and debauchery, not in dissension and jealousy. Rather, clothe yourselves with the Lord Jesus Christ, and do not think about how to gratify the desires of the flesh. -Romans 13:11-14 (NIV)
Four healthy things to do after the election:
Pray for America and our leaders.
Honor with your language—don't mock people's features or call them names, we are all made in God's image.
Rest: Don't watch the news non-stop. Take a break. Get some literal rest and rest in God's Sovereignty.
Live: This election is important but so is living your life. Consider putting your energies into causes you care about in order to see the change you desire.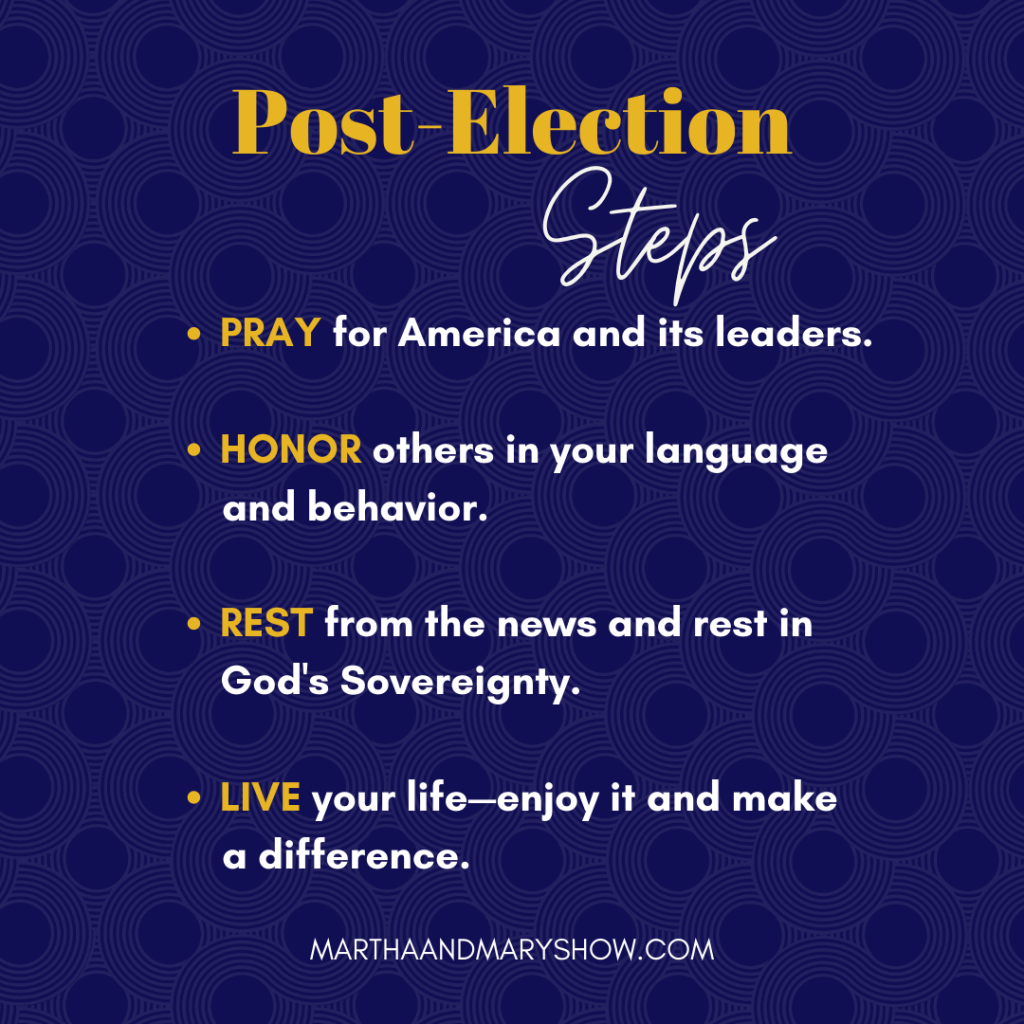 Conservatives have politicized their religious beliefs and liberals have turned politics into a religion. -Jane Pearson #marthamaryshow #election2020
Click To Tweet
Join us over in the Martha and Mary Show Sisterhood Group on Facebook, where you'll be uplifted and in the loop about the podcast.
Need a break from politics? Here's an uplifting story that has an unpredictable yet happy ending! Katie's new novel, A Very Bavarian Christmas.
God is Sovereign in this moment...and you're okay. @leenienhuis #marthamaryshow #election2020
Click To Tweet
Connect with Us:
Be sure to subscribe to the show and it'd be great if you'd leave a rating and review—thanks!
I don't want to be divisive. I also don't want to be wimpy. #marthamaryshow #election2020
Click To Tweet
Listen to Season 5 of the Podcast:
#66: A Closer Look at Prodigals
#65: A Very Bavarian Christmas
#64: Powerful Introverts (Guest: Holley Gerth) 
#61: Fashion Tips for Busy Women with Shari Braendel
#59: What's on Your Bucket List?
#58: When People are Disappointed (Guest: Christa Hutchins)
#57: Small Means, Big Hospitality