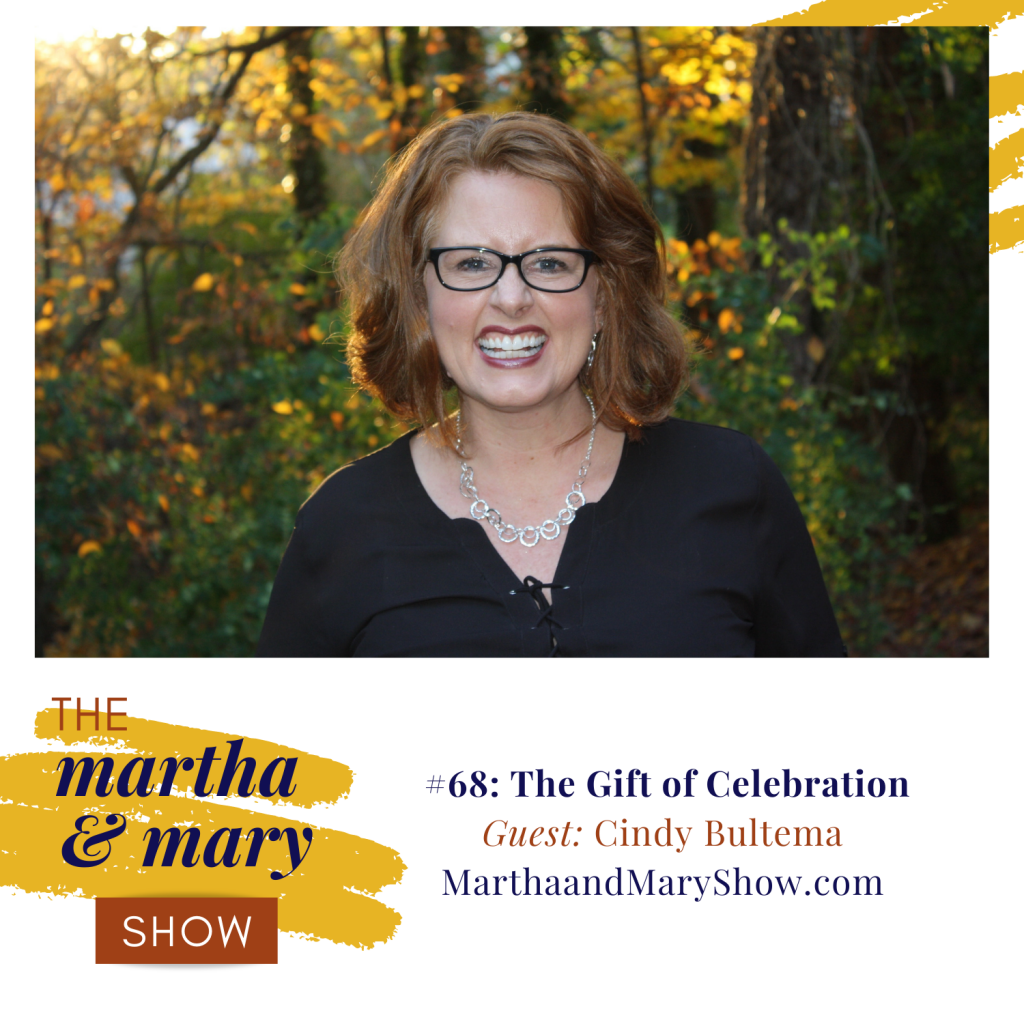 There is a time for every season. This week we are talking about both celebration and grief with our dear friend, Cindy Bultema.
Disclosure: Affiliate links are used in this post. If you choose to purchase through the links, we may be compensated at no additional cost to you. See full disclosure policy.
Listen to the latest episode below, on our podcast webpage, or access Episode #68 on your favorite podcast app.
Show Notes for Episode #68: The Gift of Celebration
Cindy Bultema shares about the gift of celebrating others, along with tips for supporting those who are grieving this holiday season.
Today's Guest: Cindy Bultema is a wife, mom, women's speaker, author of the Red Hot Faith and Live Full, Walk Free Bible Studies and an overcomer. She loves her family, sparkly confetti, coffee, and celebrating. Most importantly, Cindy loves Jesus and the Bible, and has devoted her life to telling others about God's unfailing love. Connect with Cindy and learn more about the GEMS U & Me Conversations Kits for parents that she refers to on the show.
Receive 20% off the Conversations Kits when you use the discount code: MM20 (through the month of November)!
Theme Music: "Better Together" by Cade Popkin
Show Sponsor: Life in Season: Celebrate the Moments That Fill Your Heart & Home by Vanessa Hunt and Heather Patterson.
What is your favorite way to celebrate others? @cindybultema #marthamaryshow
Click To Tweet
Connect with Us:
Be sure to subscribe to the show and it'd be great if you'd leave a rating and review—thanks!
Keep things simple this holiday season so you can stay focused on the One who is most worthy of celebrating. #marthamaryshow
Click To Tweet
Listen to Season 5 of the Podcast:
#67: Martha and Mary Talk Politics
#66: A Closer Look at Prodigals
#65: A Very Bavarian Christmas
#64: Powerful Introverts (Guest: Holley Gerth) 
#61: Fashion Tips for Busy Women with Shari Braendel
#59: What's on Your Bucket List?
#58: When People are Disappointed (Guest: Christa Hutchins)
#57: Small Means, Big Hospitality