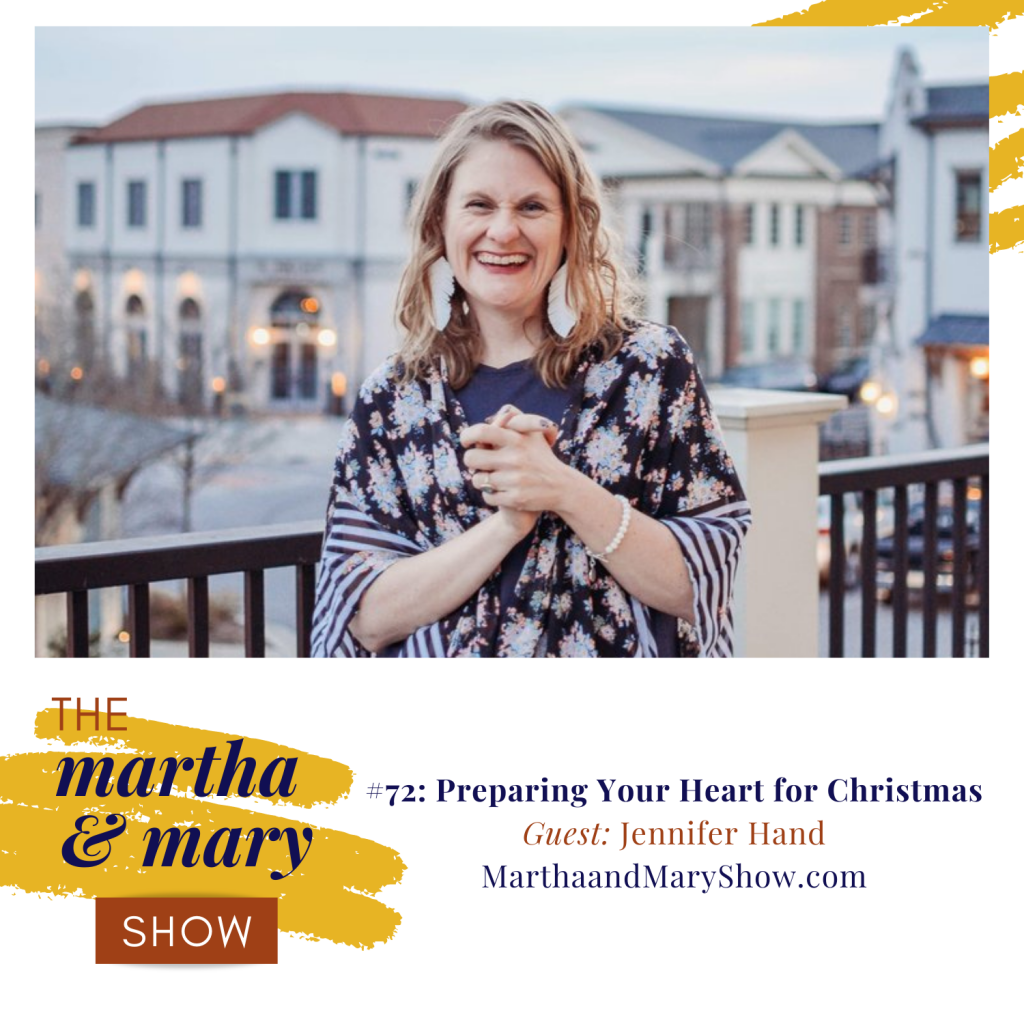 Our favorite guest, and season 4 co-host, Jenn Hand is back to help us prepare our hearts for the holiday season.
This is our last episode of 2020. We'll be back in January! Enjoy time with family and if you'd like, listen to past episodes of The Martha + Mary Show to uplift your heart over the holidays.
Disclosure: Affiliate links are used in this post. If you choose to purchase through the links, we may be compensated at no additional cost to you. See full disclosure policy.
I am the Lord's servant, Mary answered. May your word to me be fulfilled. Then the angel left her. -Luke 1:38 (NIV) #advent #Christmas2020
Click To Tweet
Listen to the latest episode below, on our podcast webpage, or access Episode #72 on your favorite podcast app.
Show Notes for Episode #72: Preparing Your Heart for Christmas
Jenn Hand, director of Coming Alive Ministries, shares how we can prepare our hearts for Christmas even when the holidays look different than expected.
Theme Music: "Better Together" by Cade Popkin
Show Sponsor: A Very Bavarian Christmas by Katie M. Reid. Purchase two or more copies, you can access the book club kit for free!
Countercultural Parenting: Building Character in a World of Compromise by Lee Nienhuis is a timely resource for parents to invest well in their children as they help them develop godly character.
The people walking in darkness have seen a great light; on those living in the land of deep darkness a light has dawned. -Isaiah 9:2 @comingalivejenn #marthamaryshow #advent
Click To Tweet
Things We Talk About:
Look at the small you can do by celebrating the big God has done. @comingalivejenn #marthamaryshow #comingalive #advent
Click To Tweet
Connect with Us:
Subscribe to the show and leave leave a rating and review!
We want to hear, what has God done in your life this year? #marthamaryshow #2020
Click To Tweet
Listen to Season 5 of the Podcast:
#71: Feasting on Truth for Advent (Guest: Erin Warren)
#70: Reading A Very Bavarian Christmas
#69 Our Favorite Children's Books
#68: The Gift of Celebration (Guest: Cindy Bultema)
#67: Martha and Mary Talk Politics
#66: A Closer Look at Prodigals
#65: A Very Bavarian Christmas
#64: Powerful Introverts (Guest: Holley Gerth) 
#61: Fashion Tips for Busy Women with Shari Braendel
#59: What's on Your Bucket List?
#58: When People are Disappointed (Guest: Christa Hutchins)
#57: Small Means, Big Hospitality